Scroll Down To See All Of The Important News!
March News
The Treasures of Music
As Spring is slowly coming our way, we can soon look forward to more sunshine, flowers and trees growing new leaves and petals, and longer days. Yay!
One thing I have been contemplating is how there are hidden treasures to taking music lessons. We all know that music lessons are great because music is being made and the skill of playing an instrument is progressing. But there are some "hidden" treasures that are gained by taking music lessons that are not always so apparent.

1. Lessons teach discipline. Students may not be realizing it, but music lessons are teaching them discipline. It takes discipline to learn difficult things in a slow and steady manner. Music is very complex and over years, the musician is taking small steps that build on skill and knowledge that over time leads to mastery. One day, after all the years of practice and doing the small steps of learning, they will be a master at their instrument but it will feel like second nature.
2. Lessons teach perseverance. When things get difficult in life, we all need to persevere. How easy it is to just give up when things get difficult. Music lessons are great at teaching us that because learning an instrument is not always easy, and can be frustrating at times. If we can push through the hard times and keep going, we can apply that to every area of our lives and we will accomplish much!
3. Music lessons teach generosity and kindness. Music lessons provide opportunities for performing for others. When we perform, we are sharing our gift of music. We can provide music for our loved ones, for people who are lonely in assisted living places, for our friends, etc. It provides joy for the musician AND for the listener. Even better when we can play with other musicians together as a team!

I hope you can see how beneficial music lessons are for the student and not only is it fun, but it produces great kids! I know we have some pretty awesome students at PFMA!

Dawn Elmer
Academy Director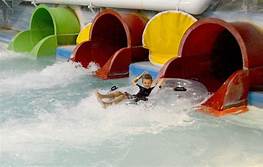 Win 4 Day Passes to Triple Play Park!
The new referral contest is on! You could win 4 day passes to Triple Play, including the Raptor Reef water park and the ropes course, by referring a friend to the Academy. Each time you refer a friend to the Academy, you will receive $50 cash. Plus you will be entered to win our referral contest! Please tell your friends and family how much you love your lessons because we would love to have more wonderful students like you!

Saturday Lessons!
We now have lessons on Saturday mornings to accommodate our busy families. Lessons are available in Piano, Voice, Violin, Trumpet, Trombone, Bass, Bass Guitar, and more! Call us to sign up!
Important Dates


Make Up Classes

PIANO
March 10th
Teacher: Adrienne
12:30 pm

March 17th
Teacher: Betsy
8:00 am

March 24th
Teacher: Pam
11:30 am

VIOLIN
March 17th
Teacher: Katelyn
8:00 am

March 24th
Teacher: Dawn
12:30 pm

VOICE
March 10th
Teacher: Anthony
12:30 pm

GUITAR
March 20th
Teacher: Abe
7:00pm

March 17th
Teacher: Steve
11:30 am

DRUMS
March 17th
Teacher: Steve
12:30

CELLO
March 24th
Teacher: Alexys
12:30

St Patrick's Day Concert
Saturday, March 17th
5:30 pm
Calypsos Coffee Shop

Picture Day
Saturday, March 24th
2:00-4:00 pm
At the Academy

Spring Break
CLOSED March 25-April 1st
Open on April 2nd

Make Up Classes


How do Make Up Classes work? If you miss a lesson, you can sign up for a FREE make up class! We have them every month for every instrument. All you have to do is sign up at the front desk in our Make Up Class binder. They are scheduled out in advance. Sign up for as many as you want!

$50 Referral Gift!


Thank you to the Barker family for referring students to the academy. They received 2 $50 bills and are entered into our upcoming drawing. Are you ready to win the next giveaway? We are giving away 4 day passes to Triple Play! Simply refer someone who signs up and you will be entered to win! You can also pick up some referral cards to give away to all your friends! Just go to the front desk and pick a few up. Go out and share!

Welcome New Students!

New Students for February:

Cooper S.
Beverly S.
Zhasmin R.
Rebecca G.
Marla R.
Gavin D.
Tyler D.
Keira R.
Xsyra R.
Peter T.
Brynlee B.
Jake H.

Picture Day

We will be having another FREE Picture Day on Saturday, March 24th, from 2-4. You can sign up for a slot and you will receive all the pictures in a digital file to keep!

Student Of The Month


Chris Werry

We are pleased to announce our March Post Falls Music Academy student of the month! Chris is 11 and 3/4 years old and has been playing piano for about 5 years. He is a 6th grader at PFMS. His favorite piece is Gravity by his band, the Diamond Breakers, the rock band class at PFMA. His favorite color is purple and he loves to eat sushi. He also plays bass guitar and ukulele. When he is not practicing music, he loves drawing. His teacher Miss Dawn says: "Chris is a wonderful student because he loves to have fun making up music and can learn anything by ear. He is a joy to teach!" Congratulations Chris for your hard work and awesome attitude!

Musical Ladder Winners!

We have a lot of smiling students here! Post Falls Music Academy is the only music school in the Inland Northwest area that gives their students the opportunity to earn special color wristband bracelets, (kids and teens love them!) trophies AND certificates for passing musical tests with the Musical Ladder System®.